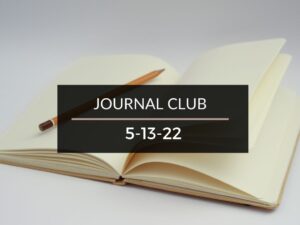 Here's Journal Club 5-13-22! Every week, I hold a JOURNAL CLUB. After filtering through the articles on the web, I present a few that impacted my life this week. Be safe and stay well!
---
Do you know someone who's financially well off but continues to stress about money or struggles to spend it? If so, the author of

Canucksmoney

encourages you to overcome that fear for a simple reason. Interested to learn more? Check out the article –

Happy Spending

.
For those on the fence about whether or not to get disability and life insurance, the

Carpe Diem MD

has a valuable lesson to share with us. The author shares an important realization for creating a rewarding life in a touching personal story –

The Fall

.
Hitting your financial independence goal can be a sweet feeling. However, can you imagine achieving financial freedom during a global pandemic? Needless to say, it must feel incredibly isolating. The author

B.C. Krygowski

experienced something similar and shares how she overcame that feeling in the article –

FIRE is Boring: Redefining what Retirement Means

.
That's all for this week! I hope this week's journal club was helpful.
Read any interesting articles? We'd love it if you could please take a moment to share them in the comments below!
Thank you for reading and sharing,
Peter